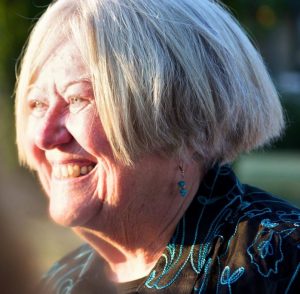 How long have you been writing?
My first novel was published in 2012. Public speaking, writing and storytelling have always been part of my life since high school.
When you write, do you prefer pen and paper or the computer?
I have scattered notes that get transferred to the computer and I often go outside or travel with a yellow pad at the beginning of a writing project. But when I am in the thick of it, I need to be on the computer.
Of the books you've written, which one is your favorite and why?
My latest – Amidst the Stones of Celtic Ireland… love how it came together
What's your favorite book by another author?
Mists of Avalon by Marion Zimmer Bradley introduced me to a time, place, and world view that really resonated with me. I was hooked on my exploration of Celtic lore, the Grail legends, and ancient mysteries. Crossing to Avalon, a memoir by Jean Shinoda Bolen helped me express how meaningful those stories were to my own life.
What was your favorite childhood book?
Read a lot of biography, classics and all the Nancy Drew books
Where did you grow up, and what impact did it have on your writing?
Caledonia, NY where my grandparents settled after arriving from Northern Ireland, meeting and starting their family. Scot Presbyterian roots combined with the rolling hills and Finger Lakes set me up for my love of Ireland, Scotland and all things Celtic.
What's the most interesting place you've visited?
The sacred sites I write about have a power of place that overwhelms me. Istanbul and Morocco were the most exotic. I could go on and on. I love to travel
What's your secret guilty pleasure?
No secret- chocolate.
If life gave you a chance for one do-over, what would you choose?
Realize I was thin when I was thin (thinner, anyway) and appreciate my body.
Favorite thing to binge watch?
British mysteries, shows like Gilmore Girls.
What is something that you wish people would ask you?
I love talking about Ireland, the Ancient Mysteries and Celtic places
What was your first job?
Lawn mowing, helping in aunt's real estate business in high school. Professional-college administrator/assistant dean.
Tell us about the best meal you've ever had.
Roast pig in Madrid in an ancient cellar restaurant frequented by Ernest Hemingway.
Tell us about your first or favorite car.
Arresting red Honda Del Sol hardtop
What's something that's still on your bucket list?
The Celtic lands in France and Spain.
What's your favorite piece of music?
Peter, Paul, and Mary always soothe me and lift me up.
Tell us about a teacher who inspired you.
I loved school and loved learning from informal mentors.
What's the most dominant color in your wardrobe?
Blues and purples.