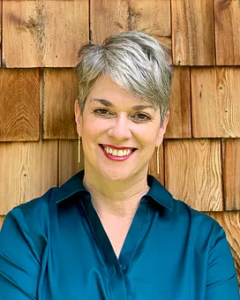 How long have you been writing?
19 years.
When you write, do you prefer pen and paper, or the computer?
Laptop, baby.
Of the books you've written, which one is your favorite and why?
My latest, Pack Up the Moon, because the hero, a young widower, goes through so much and learns so much…and the ending is so happy.
What's your favorite book by another author?
Unfair question.
What was your favorite childhood book?
The Lion, the Witch, and the Wardrobe.
Where did you grow up, and what impact did it have on your writing?
Connecticut and Massachusetts. I have a firm grasp on what it is to be a sensible Yankee who doesn't need to talk much.
Who is your favorite fictional character, and why?
Atticus Finch because he's Atticus Finch. (I don't count Go Set a Watchman. That was just mean on the publisher's part.)
What's the most interesting place you've visited?
I'd have to go to Venice, because it was so different from any place I've been, and yet I feel like I could be right at home there.
If life gave you a chance for one do-over, what would you choose?
I probably would have gone to medical school.
Favorite thing to binge watch?
24 Hours in the A&E, a British show about a day in the ER.
Tell us about the best meal you've ever had.
My husband makes this pasta dish…broccoli, garlic, olives. It's incredible.
Tell us about your first or favorite car.
I had a tiny Honda hatchback, standard transmission. I loved that car. Ziggy.
What's something that's still on your bucket list?
I'd like to hang glide. That looks so peaceful and beautiful.
What's your favorite piece of music?
Another unfair question!
Tell us about a teacher who inspired you.
Mrs. Wheatley, freshman English teacher, Mercy High School. It was her kindness I remember most.
What's the most dominant color in your wardrobe?
Black. Like my soul. ; )