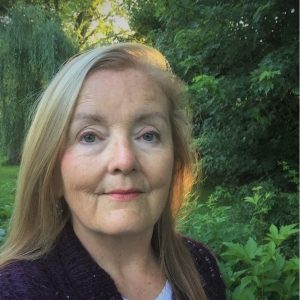 How long have you been writing?
More than 30 years.
When you write, do you prefer pen and paper or the computer?
First draft, pen. It lets ideas flow swiftly without spellcheck yelling at me.
Of the books you've written, which one is your favorite and why?
My family saga, The House with the Wraparound Porch. I love how what happens in one generation echoes in the next. Plus, it's inspired by my grandparents' home in Penn Yan.
What's your favorite book by another author?
I think about the characters in Anne Tyler's The Accidental Tourist a lot. (I also alphabetize my spices – ha!)
What was your favorite childhood book?
My imagination was stirred deeply by Edith Hamilton's Mythology.
Where did you grow up, and what impact did it have on your writing?
Southern Tier, but summered on Keuka Lake. My ancestors were from Ireland and that's where most of them settled. The lake is a touchstone for my family. Feels like there's a genetic connection. When I visited my ancestors' grave in Ireland, the terrain looked like the land around Keuka. I wonder if that's why they settled in Penn Yan.
Who is your favorite fictional character, and why?
Anne Shirley of Anne of Green Gables. I was prone to bouts of similar wild imagination as a child.
What's the most interesting place you've visited?
Cape Flattery, Washington. It's the most northwest point in the lower 48 states. The land is part of the Makah Tribe Reservation, a dramatic peninsula of rocks and windswept trees at the corner of the Pacific and Strait of Juan de Fuca. Went there for my niece's destination wedding, and it inspired part of my latest novel, The Water Mystic of Woodland Springs. That novel blends the cape with the Finger Lakes.
What's your secret guilty pleasure?
Vanilla dipped Drumstick ice cream cones
If life gave you a chance for one do-over, what would you choose?
Focus more on using my creativity than ensuring my financial stability.
Favorite thing to binge watch?
Schitt's Creek
What is something that you wish people would ask you?
Would you care for more chocolate?
What was your first job?
Gave guitar lessons in our home.
Tell us about the best meal you've ever had.
My mom and I took a road trip into the Deep South back in June of 1991. We when reached New Orleans, we decided to dine at The Court of Two Sisters. The seating was on a patio underneath a twisted wisteria vine surrounded by gurgling water fountains. Birds flitted back and forth under the canopy. There were gaslights marking the dining area and lamps at each table. Our waiter had an elegant demeanor and was very gracious. It had been a steamy day (classic New Orleans), so I ordered an Absolut Vodka Tonic that arrived with a refreshing slice of lime. Because it was so hot, many of the traditional Cajun/Creole dishes seemed too heavy to order. Instead, I selected the Grilled Tropical Lobster stuffed with crab and shrimp. It was the best lobster I had ever tasted. For dessert, I opted for fresh strawberries with clotted cream with a cup of café au lait. Everything was so fresh, yet light. As we stood the leave, our waiter thanked us and then told us not to linger in the French Quarter too late because the crowd can turn. We appreciated, and heeded, his kind warning.
Tell us about your first or favorite car.
Toyota Tercel. Had her for 20 years and took some seriously long road trips with her, into the Deep South, across the Gaspé peninsula into the Canadian Maritimes, and across the U.S. & Canadian Rockies. Her name was LaToya.
What's something that's still on your bucket list?
Go to a cooking school in Tuscany.
What's your favorite piece of music?
Tough question! So many. But, "That's The Way of the World" by Earth, Wind & Fire always lifts my spirit.
Tell us about a teacher who inspired you.
Padraigín Dugan, my first Irish language teacher. She was part of a core group of people in the New York City area (initially) who were intent on keeping the language alive. She and her husband drove two hours each way to teach classes in my hometown. Because of her, I attended Irish language immersion weekends in the Hudson Valley, and met all sorts of people who would change my life. Because of her dedication, my first trip to Ireland was to study the language in Connemara.
What's the most dominant color in your wardrobe?
Shades of blue